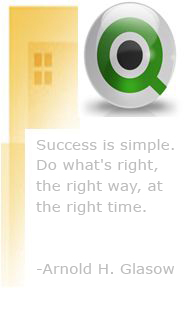 Qlik View
QlikView is a single product that provides all the BI capabilities that traditionally would require an entire suite of complex products to achieve.
QlikView is a simple, self service tool designed specifically to enable business users to analyze business information. QlikView is revolutionizing business intelligence with the fast and powerful visualization capabilities that you have always wanted.
QlikView puts information at your fingertips and frees you to make quick business decisions, giving you the necessary information you need to act faster.
QlikView is simple to adapt, quick to deploy and easy to use, giving you the intelligence you need for faster and smarter business decisions. QlikView is a truly one of a kind solution, offering:
Lightening Fast Response Rates
Full in-memory processing gives immediate query response no matter how complex the query, even with data volumes as large as a billion records.
Unparalleled Flexibility
QlikView does not require a data warehouse, so users can quickly correlate data from multiple sources, and add new data sources in a matter of minutes. In addition, one QlikView can replace hundreds of reports and cubes.
Unsurpassed Scalability
QlikView offers immediate access to hundreds of millions of records at the click of a mouse, including drill down all the way to the transaction level.