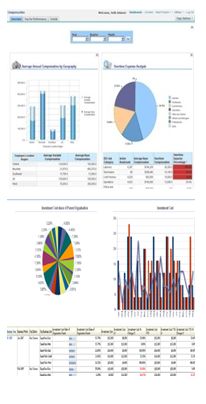 Oracle Human Resource Analytics
Deeper and Integrated Talent Insight
Talent management is about providing workforce information to business leaders so they can attract, develop, and retain the best people. With more than 300 metrics and 600 dimensional attributes, Oracle Human Resources Analytics provides the workforce information your human resources (HR) professionals and front-line managers need to analyze workforce staffing and productivity, and to better design compensation that rewards performance. Oracle Human Resources Analytics integrates data from a wide array of functional areas in HR and Finance, presenting the best tools available to better source high quality applicants, and to reduce employee retention and absence costs.
Benefits
• Workforce Insight — Monitor workforce demographics in line with your recruitment and retention objectives. Analyze efficiency of the entire recruitment process lifecycle, understand and prevent the drivers of employee turnover.
• Targeted Workforce Development — Gain insight into the movement of top and bottom performers in the organization to engage and develop internal talent. Gain insight into learning demand by analyzing course enrolments by job, delivery methods, and organizations.
• Improved Compensation — Understand how compensation impacts performance, ensure compensation is equitable and consistent across roles, and align variable compensation with your organization's objectives and goals.
• Leave and Absence — Get a comprehensive view into employees' current, planned, and historical absence events; monitor absence trends as a predictor for employee engagement.
• Better Understanding of HR Performance — Assess HR's overall performance and employee productivity using industry benchmarks such as revenue per employee, contribution per headcount, and return on human capital.
• US Statutory Compliance — Monitor US EEO, AAP, and Vets100 compliance reporting.