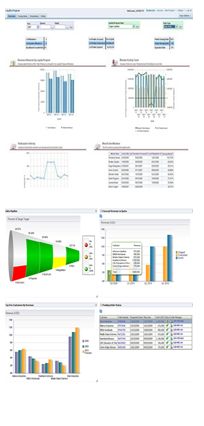 Oracle Loyalty Analytics
Improve the Effectiveness of Customer Loyalty Programs
Companies across different industries use Loyalty Programs to drive and sustain growth, yet the majority of these programs fail to reach their targeted goals due to limited insight into the effectiveness of their programs on customer behaviour. Oracle Loyalty Analytics is a comprehensive analytic solution that provides new levels of information richness, usability and reach to all employees engaged in the loyalty program lifecycle. This results in faster and more informed decisions that help the loyalty organization optimize its programs to drive member behaviour, build value and reduce costs.
Benefits
• Manage Program Effectiveness — Leverage the power of timely, actionable information to improve the effectiveness of promotional programs, understand customer transaction trends, and improve customer loyalty programs.
• Enhance Customer Insight — Unlock valuable information hidden in systems across the enterprise. Identify the most profitable customers and effectively drive desired behaviour. Segment and analyze across customer and partner channels to get a holistic view of loyalty program effectiveness, promotion ROI and member profitability drivers.
• Manage Proactively — Urgent business circumstances demand immediate attention. Oracle Loyalty Analytics keeps you apprised of factors and thresholds, allowing you to take necessary actions in maintaining customer satisfaction.