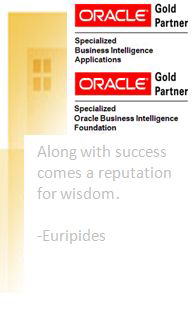 Oracle Business Intelligence Solutions
Oracle OBIEE and Oracle BI Applications
Oracle Business Intelligence Suite Enterprise Edition Plus (OBIEE Plus) is a comprehensive suite of enterprise business intelligence application that delivers a full range of capabilities including interactive dashboards, full ad hoc queries, proactive intelligence and alerts, enterprise and financial reporting, real-time predictive intelligence, disconnected analytics, and more. The products in the suite are based on a proven Web service-oriented architecture that integrates with an organization's existing information technology (IT) infrastructure for the lowest total cost of ownership (TCO). Oracle BI Applications provide complete, relevant insight to everyone in an organization and that, in turn, results in better decisions, informed actions, and more-efficient business processes.
The AbbuSys BI Practice offers services ranging from data warehouse design and application design, to ETL development, plus report and dashboard design and development. It extends to upgrades and conversions. AbbuSys provides the technical expertise, business domain experience, as well as the execution required to bring you to a complete solution.
Abbusys Oracle BI Enterprise Edition Solutions
AbbuSys BI competency delivers Oracle BI Application based customer intelligence solutions and services that empower enterprises to unlock the value hidden in data and obtain real time customer insights. We help you enable data access from multiple disparate sources, existing production databases and applications across the enterprise so that enterprises can rapidly analyze information, thus facilitating quicker decision making.
Full Life Cycle Implementation
Oracle BI Applications rapid deployment
Integrating Analytics with your current BI platform
Integrating Analytics with current data warehousing environment
Data warehouse design
Data & system integration
Building customized dashboard
Building custom reports
Post Production support
Security Strategy
Performance Management