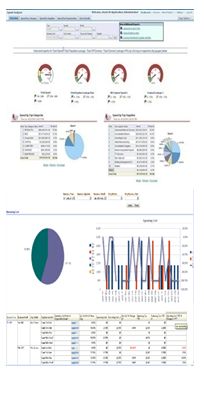 Oracle Procurement and Spend Analytics
Gain Visibility into the Complete Procure-to-Pay Process
Oracle Procurement & Spend Analytics, part of the Oracle BI Applications product line, enables you to optimize supply side performance by integrating data from across the enterprise value chain—enabling executives, managers, and frontline employees to make more informed decisions. Oracle Procurement & Spend Analytics increases visibility into the complete procure-to-pay process, including comprehensive spend and procurement analysis, supplier performance analysis, supplier payables analysis, and employee expense analysis. Through complete end-to-end insight into the factors that impact company performance, you can significantly reduce costs, enhance profitability, increase customer satisfaction, and gain competitive advantage.
Benefits
•Gain a Holistic View of Procurement and Spend
Gain detailed visibility into direct and indirect spending, and identify opportunities for consolidation and reduction of costs.
•Improve Procurement Performance
Reduce corporate spending through stronger strategic sourcing initiatives. Identify procurement bottlenecks and proactively take corrective action before they become major issues.
•Enhance Insight into Supplier Performance
Monitor price, delivery, and product quality to determine best - and worst - performing suppliers. Improve contract usage and compliance.
•Control Employee Spend
Understand how the money related to travel and expenses is being spent by gaining a complete picture of Employee Expenses.